Surgeries We Perform
Providing You The Best In Orthopedic Surgery
Expert Surgical Care
We understand that surgery can be scary. You can feel safe in our care. We promise to provide transparent, affordable musculoskeletal care in a compassionate environment, through the skills of highly-trained surgeons. Our priority is your safety and healing, and we will never compromise it. Knowing that you want to get back to the life you love quickly, we offer a wide range of the most advanced surgical techniques, including minimally invasive arthroscopic surgeries. You will go confidently into your surgery knowing that you're in the hands of the most empathetic and competent orthopedic experts around.
Board Certified
Pro Athlete Experience
1,000+ Success Stories
50+ Combined Years
ACL Reconstruction
The ACL is the most frequently injured ligament in the knee. It can tear partially or completely. When the ACL tear is severe, it often requires surgery to repair the ligament, the most common procedure is reconstruction. It involves replacing the torn ligament with new tissue in the form of a tendon graft taken from your own knee or area near your knee (autograft) or from a donor (an allograft). Dr. Berry performs hundreds of ACL reconstructions every year, so you can have peace knowing you're in experienced and skilled hands.
Cartilage Transplant
A cartilage transplant is a viable option for those with knee pain that hasn't subsided with other treatments. A cartilage transplant can be an effective way to reduce pain and improve joint function, especially to those who suffer from osteoarthritis. With this innovative procedure, cartilage is harvested from a healthy joint in your body and is then transplanted to the affected area. Your doctor will use empathy and expertise to determine the best course of action to gain your knee's relief.
Knee Replacement
If you suffer from osteoarthritis, rheumatoid arthritis, or post-traumatic arthritis resulting from a serious knee injury, then you may be eligible for a knee replacement surgery. This surgical procedure replaces the weight-bearing surfaces of the knee joint, usually with metal and plastic components, to relieve pain and regain mobility. Our multiple fellowship-trained physicians offer a wide range of knee treatment options, compassionate care, and specialized skill.
Rotator Cuff Repair
The rotator cuff consists of a group of muscles and tendons that hold your shoulder in place and enable you to lift your arms. The most common symptoms of a rotator cuff injury are recurrent pain, limited range of motion, and muscle weakness. Dr. Robert Berry specializes in Rotator Cuff Repair and is an expert in using an open surgical approach, arthroscopy, or a combination of both. He will meticulously assess your injury and determine which surgical procedure is best for you.
Joint Replacement
Choosing whether to undergo joint replacement surgery or not is no easy decision. But if pain is holding you back from participating in the activities that make you happy, then it's time to talk with our team of leading orthopedic surgeons about your options. Our joint replacement specialists will evaluate your condition and determine the best approach to help you step back into an active and pain-free life.
Should you require a partial or total joint replacement surgery, you can rest assured that our surgeons are highly-trained and use the most modern technologies, materials, and procedures available.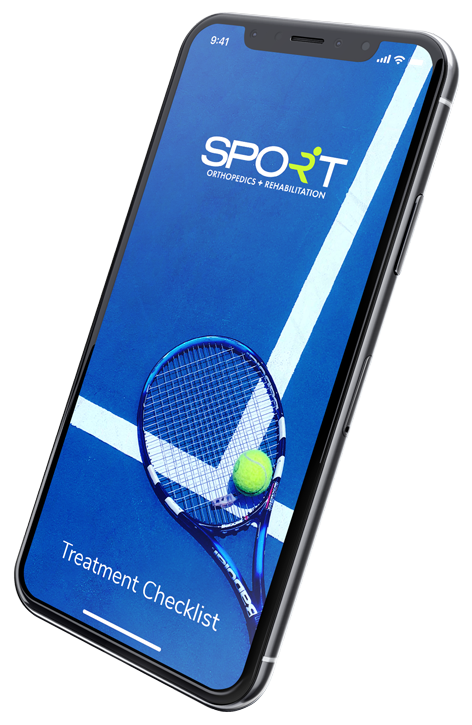 Download our Free
SPORT Treatment Sheet